Laurie Clark
School Counselor for Grades 10-12
315-902-3000, ext. 4035
Email Laurie Clark
Barbara Poerio
School Counselor for Grades 7-9
315-902-3000, ext. 4031
Email Barbara Poerio
Megan Furman
School Psychologist for Grades 7-12
315-902-3000, ext. 4036
Email Megan Furman
Cari VanStrien
School Social Worker
315-902-3000, ext. 4023
Email Cari VanStrien
Justin Allen
Elementary School Counselor
315-902-3100, ext. 20143
Email Justin Allen
Joseph DeWolf
School Social Worker
315-902-3100, x. 20145
Email Joseph DeWolf
Amy Fisher
Preschool Coordinator & School Psychologist
315-902-3100, ext. 20189
Email Amy Fisher
Kendra Vavra
Advocate for Students from Family Counseling Service of the Finger Lakes
kendra.vavra@clydesavannah.org
Kathleen Lochner
School Based Therapist from Wayne Behavioral Health klochner@co.wayne.ny.us
Spencer Lippert
Community Schools Coordinator for Junior/Senior HS spencer.lippert@waynecap.org
Emma Ibbotson
Community Schools Coordinator for Elementary School emma.ibbotson@waynecap.org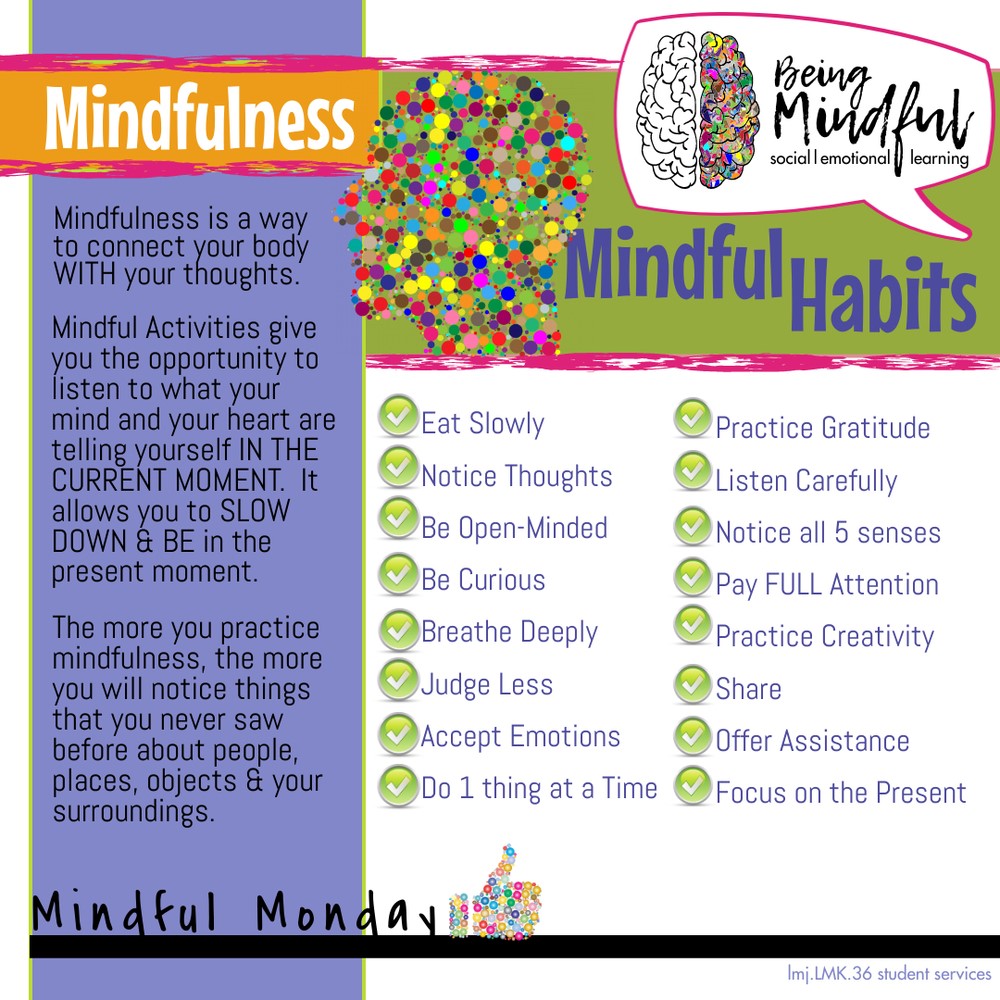 Why is mindfulness important in Junior/Senior School?
"Incorporating mindfulness into education has been linked to improving academic and social and emotional learning. Also, mindfulness strengthens some underlying development processes—such as focus, resilience, and self-soothing—that will help kids in the long run."
What is mindfulness for Junior/ Senior High students?
Being mindful means having your mind on what you are doing. It's the opposite of rushing or doing too many things at once. To be mindful, you slow down to take your time. You do one thing at a time. You focus on what you're doing in a calm way.
What are 3 reasons mindfulness is important?
Studies suggest that mindfulness practices may help people manage stress, cope better with serious illness and reduce anxiety and depression. Many people who practice mindfulness report an increased ability to relax, a greater enthusiasm for life and improved self-esteem.
School counselors at the Clyde - Savannah Schools want to help with the welfare of all students. School counselors are available to any student who finds himself in need whether it concerns stress management, time management, or something more serious. If you find yourself in a situation that requires advice, please do not hesitate to contact your school counselor. In case of emergencies, please use the following phone numbers to access the appropriate help.
Emergency Contact Information
The Counseling Center: 315-902-3000
Response, Hotline Crisis for Wayne County : 315-946-5750
Grade Point Averages Requirement for Honor Roll Awards:
Honor Roll: 85.00-89.99

High Honor Roll: 90.00-92.99

Principal's Honor Roll: 93.00+
Clyde Savannah Senior High School Alumni Transcript Requests:
Please send requests to Darcey Patanzo at Darcey.Patanzo@clydesavannah.org
FLCC Transcript Request for Gemini students
Gemini students must send an official transcript from FLCC to the college or university they are attending to receive college credit for the courses that they took in high school. Please request your FLCC transcripts here.
College & Career Planning
College Planning & Preparation
Trade School & Apprenticeships